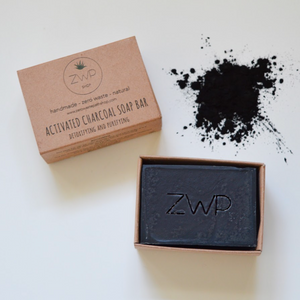 This Activated Charcoal Soap Bar is one of the newest addition to Life Unplastic and is already becoming one of the most popular. Just the smell of it oozes detoxifying!
Thanks to the combined action of the activated charcoal, the French green clay and tea tree essential oil, this soap bar is perfect for oily, impure, and mixed skin types.
It will clean the skin deeply while keeping it soft and moisturised.
Thanks to the peppermint essential oil it will also keep you fresh year-round, making it a great after-shave soap for everyone!
This soap bar can be used for washing your hands, body or face!
Zero Waste Path are one of my favourite and most popular brands and this is another great product by them!
THE BEST BITS
Plastic Free
Vegan & Cruelty Free
Detoxifying and Purifying
Certified Organic
Handmade in Cambridge
Palm Oil Free
INGREDIENTS
Sodium Olivate (Olive Oil), Aqua, Sodium Cocoate (Coconut Oil)*, Glycerin, Sodium Shea Butterate(Shea Butter)*, Mentha Arvensis (Peppermint) Leaf Oil, Melaleuca Alternifolia (Tea Tree) Leaf Oil, Activated Charcoal, Montmorillonite (French Green Clay).
Within Essential Oils: Geraniol, Linalool, Limonene
*Certified Organic
5% superfat: 5% of the oils contained in this soap are unsaponified, making it much more moisturisingthan standard commercial soap