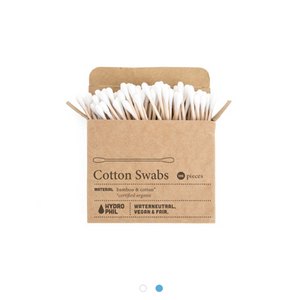 These cotton buds are the next level alternative to plastic swabs; they are made with organic and biodegradable bamboo sticks and organic cotton end!
Start your zero-waste path with this small change that will avoid creating tons of plastic waste.  
Hydrophil is also a fair trade, water neutral company.
DID YOU KNOW?
Bamboo is not actually wood, it's a form of sweet grass!
Bamboo is one of the fastest-growing plants on Earth.
The record for the highest bamboo plant is held by a 48-meter-high bamboo plant in China.
Bamboo can absorb up to 30% more CO2 than plants and trees.
No pesticides or fertilizers are necessary to grow bamboo.
Bamboo is good at preventing soil erosion.

THE BEST BITS
Organic Cotton and Bamboo
Great alternative to plastic buds
Biodegradable
100% Plastic Free
100 Pieces per pack
Packaged in recycled cardboard