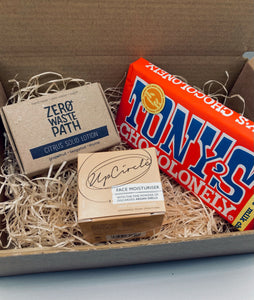 Citrus Solid Lotion Bar - This gorgeous natural lotion bar will deeply moisturise your skin in just one go! Scented with bergamot, grapefruit and thyme essential oils, giving it a vibrant and refreshing citrus scent!
Upcircle Face Moisturiser - This moisturising face cream from Upcircle is full of wonderful ingredients to deeply hydrate, nourish and brighten your skin. Upcircle are all about reused, repurposed and reloved ingredients. This hydrating face cream is made from the finely ground powder of discarded argan shells, a natural by-product of the argan oil industry and rich in antioxidant Vitamin E. Combined with cocoa butter, sage oil and blood orange, it will help protect, repair and soothe dryness and irritation. Good for you, good for the planet!
Tony's Chocolonely - This delicious milk chocolate bar is not only delicious but its also made by a company that is trying to eliminate slavery from the chocolate industry. Not just a classic milk chocolate bar, but their classic chocolate bar. It was the first bar they ever made, back in 2005. They gave it a screaming red wrapper to attract attention to their main mission - 100% slave-free chocolate.