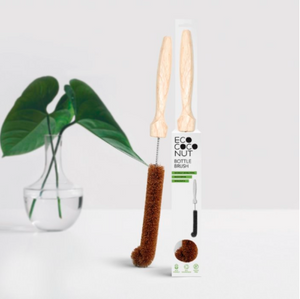 EcoCoconut is a multipurpose bottle brush for cleaning your reusable bottles, baby bottles, & wine glasses. Thanks to its long handle and curved brush design you can get into all the hard to reach places. 
EcoCoconut products are made with FSC (Forest Stewardship Council) certified recycled Rubber tree's grown in a plantation. At the end of their life they are replanted and the wood is used for the brush handles.  The bristles are made from sustainably farmed coconut husk's.
These products, their packaging and shipping materials are 100% Plastic Free, this includes labels and tape. 
This bottle brush effectively removes leftover residues and is 100% plastic-free and non-toxic.
THE BEST BITS
Designed to get into hard to reach places 

Naturally antibacterial
Biodegradable
Sustainable
Non Scratch