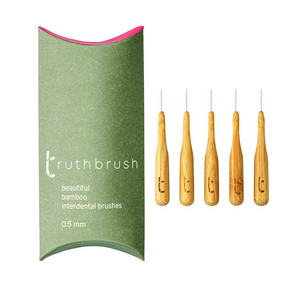 New! Beautiful bamboo interdental brushes by Truthbrush.
Made to the truthbrush exclusive design, these are ergonomic and easy to grip.
Use gently to clean between the teeth.
These come in a pack of 5 and have 100% BPA nylon bristles (castor oil bristles are not commercially available in this size).
The red packet contains 5 x 0.4mm size interdental brushes
Easy to recycle handle - simply use pliers to remove the bristle section first.