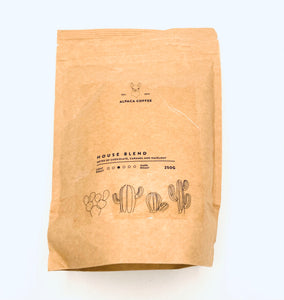 I've been looking for Plastic Free Coffee to stock for a while now so I'm very excited to have found Alpaca Coffee, a new company that is committed to reducing plastic pollution.
This is their first tried and tested house blend, with smooth notes of chocolate, caramel and hazelnut. It is a blend of two beans: their bestselling Brazilian single origin and their Honduras, a new addition.
Sustainability and environmental protection is at the heart of what Alpaca coffee do. The packaging is 100% plastic free and is made from wood pulp including the label and sealer and all their coffee is from Fairtrade and Rainforest Alliance certified coffee farms, estates and cooperatives. 
THE BEST BITS
100% plastic free
Certified Rainforest Alliance
Speciality Coffee
Fully Compostable Packaging
Fairtrade