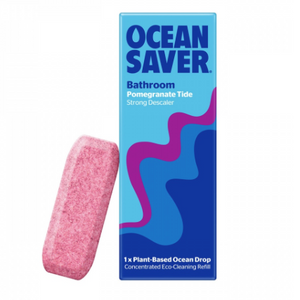 These eco friendly Ocean Saver pomegranate bathroom spray will dissolve soap scum and cut through tough stains, dirts and limescale. It makes all your bathroom cleaning chores a breeze. 
The sachets are water soluble and plastic free. Simply drop into an empty 750ml bottle, fill with warm water and shake to create a new, ready to use Bathroom spray that is environmentally friendly.
Did you know a typical cleaner is 90% water, by using Oceansaver refill drops we eliminate this and only deliver the 10% active solution. Transporting less water,  means fewer trucks on the road, helping to reduce carbon emissions.
THE BEST BITS
Vegan and cruelty free
plant-based
Refill
Plastic free 
Palm oil free
Reduced carbon emissions
Zero Waste
Fully Biodegradable
INGREDIENTS
>30% Non-ionic Surfactants. Phenoxyethanol. Perfumes. Linalool. Limonene. Eugenol.