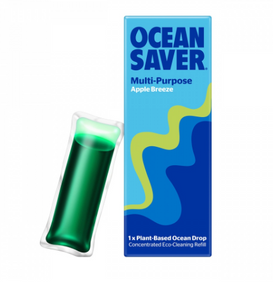 This eco friendly apple scented cleaner that works throughout the home, in everywhere from the kitchen to the bathroom. It can deal with everything life throws at you, especially tough grime and grease. It even has a neutral pH to protect your surfaces from damage.
The sachets are water soluble and plastic free. Simply drop into an empty 750ml bottle, fill with warm water and shake to create a new, ready to use kitchen spray that is environmentally friendly.
Did you know a typical cleaner is 90% water, by using Oceansaver refill drops we eliminate this and only deliver the 10% active solution. Transporting less water,  means fewer trucks on the road, helping to reduce carbon emissions.
THE BEST BITS
Vegan and cruelty free
plant-based
Refill
Plastic free 
Palm oil free
Reduced carbon emissions
Zero Waste
Fully Biodegradable
INGREDIENTS
>30% Non-ionic Surfactants. Phenoxyethanol. Perfumes. Linalool. Limonene.