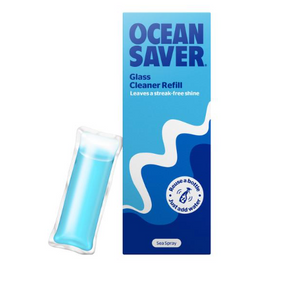 These eco friendly Ocean Saver Glass spray drops is perfect for tackling windows and mirrors, leaving you with a streak free, clean results. This powerful spray will wipe away smears, streaks and stains.
The sachets are water soluble and plastic free. Simply drop into an empty 750ml bottle, fill with warm water and shake to create a new, ready to use glass spray that is environmentally friendly.
Did you know a typical cleaner is 90% water, by using Oceansaver refill drops we eliminate this and only deliver the 10% active solution. Transporting less water,  means fewer trucks on the road, helping to reduce carbon emissions.
THE BEST BITS
Vegan and cruelty free
plant-based
Refill
Plastic free 
Palm oil free
Reduced carbon emissions
Zero Waste
Fully Biodegradable
INGREDIENTS
30% Non-ionic Surfactants, Phenoxyethanol, Perfumes, Linalool, Eugenol.