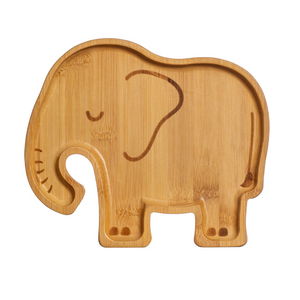 Bring a touch of nature to mealtime with this Elephant Bamboo Plate. Made from 100% planet-friendly bamboo, you'll find an adorable design of our beautiful Elephant. A brilliant way to wave goodbye to single-use plastic and have fun at the same time. Combine with the the Woodland Bamboo spoons, also available on my site.
THE BEST BITS
Made from Bamboo
Adorable design
Get kids excited about dinnertime
Plastic free
WHY BAMBOO
Bamboo is a highly sustainable plant, it cangrow to full size in just 3-4 months, compared to 30+ years for standard trees
Bamboo is strong and durable whilst remaining light to carry around
Bamboo absorbs 2 x more carbon dioxide than tress, which is why they are known as "carbon sinks". Its also produces a vast amount of oxygen.
Bamboo fibres are naturally anti-bacterial without needing any toxic chemical treatments, making it great for kids.