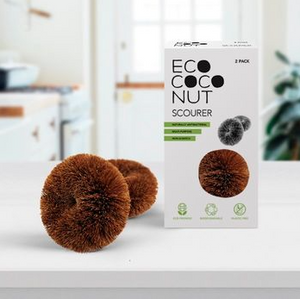 These coconut fiber Scourers are super effective for cleaning every day, without microfibers of plastic ending up in the water system!
The EcoCoconut Scourers are biodegradable and a highly durable multipurpose scourer that means you can now clean your home with an eco friendly option that isn't made of plastic!
The bristles are made from sustainably farmed coconut husk's which is the outside of dried coconuts and makes them a really handy size for dishes that need a good scrub!
THE BEST BITS
Plastic Free
Cuts through tough grease and is safe on non-stick fry pans
Non Scratch
Designed to get into hard to reach places
Easily removes mold
Naturally Antibacterial
Free from toxic chemicals
Biodegradable
Sustainable