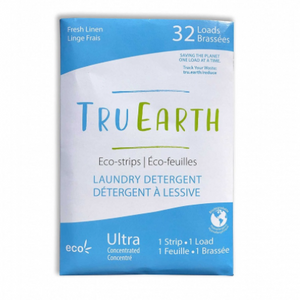 These amazing little laundry sheets are not only kind on your skin but also kind to the environment. They are hypoallergenic, cruelty free and free from paragons, phosphates, chlorine beach and added dyes to make them as safe and non-toxic as possible.
They are so simple to use because you just need a single strip for each wash so no more having to figure how how much powder you need to use. They are 100% plastic free and the packing is paper which can be either recycled or composted. They are also super lightweight which means there's reduced carbon emissions in the transport too!
The hypoallergenic properties make it fantastic for everyone as it's gentle on sensitive skin, protecting both you and your clothes. It's even kind to the most sensitive of skins to put your worries to rest.
32 Strips = 32 Washes
THE BEST BITS
Vegan & Cruelty free
Safe for the whole family
100% plastic free
Paraben-free, Phosphate-free, Chlorine bleach free, Free from added dyes
Dissolves completely in hot or cold water
Simple to use
Reduced carbon emissions in the transport
32 Washes

Safe to use even if you are on a septic system
INGREDIENTS
Vegetable Glycerin: plant-derived softener

Starch: plant-derived biodegradability booster

PVA: biodegradable supporting matrix

Potassium Sorbate: Food grade preservative

Light Mineral Oil: Used in manufacturing as a processing aid. (not an active product ingredient)

Cocamido propyl betaine: coconut oil based, biodegradable amphoteric surfactant (cleaning agent) and foam booster

Sodium Gluconate: plant-derived and food-grade, biodegradable water softener that prevents soil from resettling on fabric after it has been removed during washing

Lauryl dimethyl amine oxide: plant-derived, biodegradable non-ionic surfactant (cleaning agent) and foam stabilizer

Sulfonic acids, C14-16-alkane hydroxy and C14-16-alkene, sodium salts: biodegradable surfactant (cleaning agent)

Glycereth cocoate: plant derived and food grade, biodegradable water softener

Caprylyl Glucoside, Octyl Glucoside: non-ionic surfactants (cleaning agents)

Fragrance oil blend (not used in Fragrance Free): natural essential oils and synthetic ingredients

Residual Water