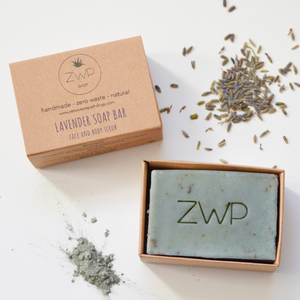 This lavender soap is perfect for any lavender lover, thanks to the lavender essential oil and ground lavender buds it will create a relaxing atmosphere in the shower, in addition to this it provides a great body scrubbing properties!
Can be used on your face and body!
THE BEST BITS
Vegan & cruelty free
No palm oil
detoxifying
Relaxing
Face and Body Scrub
Handmade using renewable energy
100 % natural
INGREDIENTS
Sodium Olivate (Olive oil), Aqua, Sodium Cocoate (Coconut Oil)*, Sodium Almondate (Sweet Almond Oil), Glycerin, Lavandula Angustifolia (Lavender) Oil, Lavandula Angustifolia (Lavender) Flowers, Blue CambrianMontmorillonite Clay.
Within Essential Oils: Geraniol, Linalool, Limonene
*Certified Organic
5% : 5% of the oils contained in this soap are unsaponified, making it much more than standard commercial soap
Please note that we use a natural, almond-based glue on our labels.