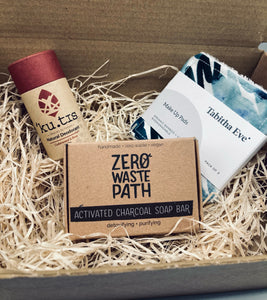 This beautiful little gift set if perfect for anyone who is looking to make simple, sustainable swaps. With this set you get......
Activated Charcoal Soap - This soap bar is one of the newest addition to Life Unplastic and is already becoming one of the most popular. Just the smell of it oozes detoxifying! It will clean the skin deeply whilst keeping it soft and moisturised. 
Ku'tis Natural Deodorant - I love the Ku'tis deodorant sticks! They last for ages and really do work! They are made from all natural ingredients and completely vegan.
Organic Bamboo and Cotton Make Up Pads - These beautiful make up pads are a great reusable alternative to disposable single use cotton ones, which often come wrapped in plastic.