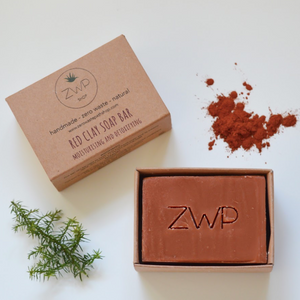 This amazing natural soap bar is one of our newest additions to Life Unplastic and has already become one of our bestsellers!
This soap bar is a variation of our Shea Butter Soap, it shares the same moisturising base recipe, with the addition of red clay and a different, more powerful, blend of essential oils!
The shea butter and coconut oil used in these soaps are pure and organic, in addition to this, these soaps are made using the cold process method, helping to preserve the wonderful properties of our ingredients.
Thanks to its soft lather this bar can also be used as shaving soap, with or without the use of a shaving brush!
This soap bar can be used for washing your hands, body or face!
THE BEST BITS
Vegan and Cruelty Free
Handmade in the UK
No Palm Oil
Plastic Free
Can double up as a shaving soap
Moisturising and detoxifying 
Made using renewable energy
INGREDIENTS 
Sodium Olivate (Olive oil), Sodium Cocoate (Coconut Oil)*, Aqua, Sodium Shea (Shea Butter)*, Glycerin, Sodium Castorate (Castor Oil), Illite (Red Clay), Pinus Sylvestris (Pine) Leaf Oil, Eucalyptus Globulus Leaf Oil, Thymus vulgaris (Thyme) Oil.
Within Essential Oils: Eugenol, Linalool, Limonene
*Certified Organic
5% : 5% of the oils contained in this soap are unsaponified, making it much more than standard commercial soap
Please note that we use a natural, almond-based glue on our labels.