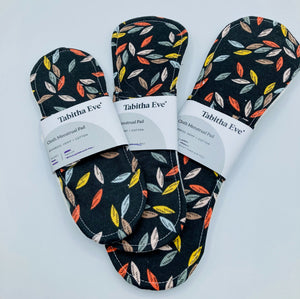 Right guys, lets talk about sanitary products! Did you know that 200,000 tonnes of sanitary products end up in landfill every year in just the UK alone!! Switching to reusable sanitary products will not only save you money but also help in the fight to reduce the amount of plastic we throw away!
These reusable sanitary pads are made from organic cotton, hemp and bamboo. They're super comfy to wear and can be used again and again. The come in different sizes and have different absorbency to fit in with your needs.
THE BEST BITS
Reduce your plastic waste
Reusable
Saves you money
Made from organic cotton, hemp and bamboo
Easy to clean
Come in different sizes
To clean your pads, just give them a quick rinse in cold water and stick them in with your normal wash. Easy as that!
We have a variety of different patterned fabric so you may not get the exact fabric shown in the photo, but they're all lovely!