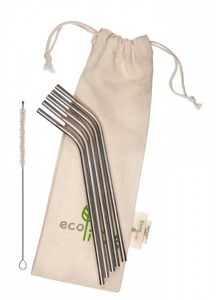 Millions of straws are used and thrown away just minutes after use every single day across the world! The US uses 500 million straws a day! This is such a simple switch to go from plastic single use straws to these reusable stainless steel ones that comes with a handy pouch so you can take them out anywhere.
5 stainless steel drinking straws, with a plastic-free cleaning brush. Packed in a 100% organic cotton GOTS certified carry pouch, plastic-free. Made from 304 (18/8) food-grade stainless steel.
THE BEST BITS
Plastic Free
100% recyclable packaging
Perfect for on the go
Comes with organic carry pouch
Help protect the ocean from plastic straws!
Great for Kids
WHATS INCLUDED
5 x Stainless Steel Straws
1 x Plastic Free Straw Cleaner
1 x Organic Straw Carry Pouch
Lovingly hand packed with 100% recyclable packaging, making it perfect for gifts.